Painted Prairie Bring on Spring Event
Posted by The Kearns Team on Tuesday, April 27, 2021 at 1:42 PM
By The Kearns Team / April 27, 2021
Comment
Join us for a FREE weekend with thoughtfully curated events and activities, informative home how-to clinics & unique community traditions!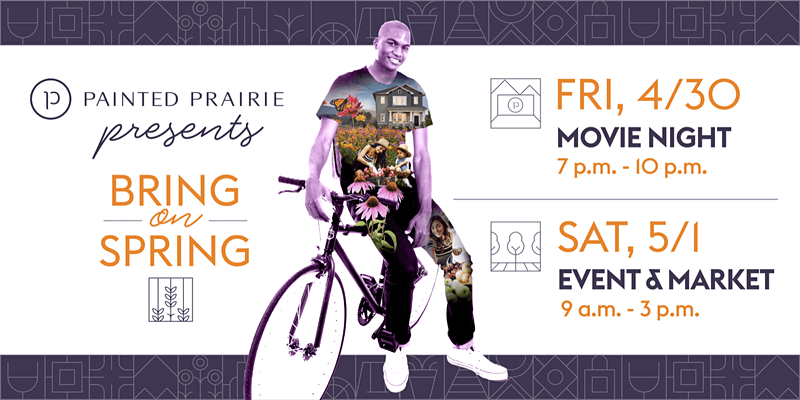 FRIDAY, APRIL 30: 7 p.m. to 10 p.m., High Prairie Park
Movie in the Park - The Princess Bride (7-10pm | Movie starts promptly at 8pm)
Grab a chair and blanket and head out to High Prairie Park for The Princess Bride
Concessions will be available—or you can bring your own!
Socially-distanced circles will be provided and we ask that the rule of 1 household per circle is respected to ensure everyone's safety
SATURDAY, MAY 1: 9 a.m. to 3 p.m., High Prairie Park
Micro Farmer's Market 9am - 1pm
Start your day with a coffee from White Rabbit Coffee's truck which will be parked near High Prairie Park.
Then, swing by some local vendors and pick up a couple things for Mother's Day (it's coming up quick on May 9th) — handcrafted soaps and home fragrances, local honey and beeswax, and freshly baked breads and bakery items to name a few!
Knife Sharpening 9am - 1pm
With grilling season approaching, it's important to get those kitchen knives and shears ready!
Colorado Knife Sharpening will be offering their services on site Saturday. You can see options and pricing here.
Free Bicycle Safety Inspections 9am - 3pm
We hope to see all of you out and about on your bikes this spring and summer enjoying the parks and trails! If your bicycle has been sitting inside all winter and needs to be dusted off, bring it by Velofix at High Prairie Park.
They'll be offering free safety inspections, minor adjustments as applicable, and can also provide recommendations on any tune-ups that may be needed.
Spring & Summer Gardening Clinic Every hour from 10am - 2pm
Come visit with Dig and Dream Garden Club to learn about soil preparation as we move into summer, and also what cool weather crops you might be able to plant now.
Interested in joining a garden club? Now's your chance to meet others interested as well!
In addition to the above, there will also be two food truck options and Nature's Educators will be back featuring "Birds of a Feather."
In order to assure social-distancing, FREE tickets are required. We are asking all attendees to pre-register for the Friday Movie Night and for a specific arrival time for the Saturday event. Please register for only ONE arrival time on Saturday. Once you've arrived at the event, you may attend any of the activities and stay all day!
Attendees will be required to wear a mask or face covering while attending the event.